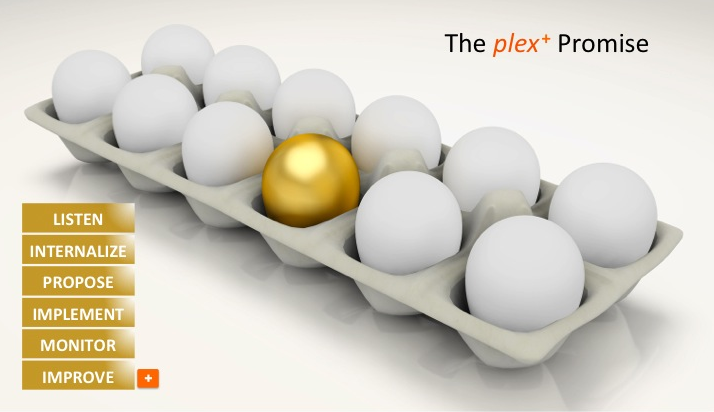 The Plex

Plus

(+)
At Plexlane we understand you have choices.  So what sets us apart from the other service providers.
At Plexlane we want to add value for our customers because see the following opportunities
- Lack of innovation in the marketplace.

- Providers not willing to tie contract success with contract payouts.

- Providers answering the phone vs. being a partner.

- Customers having to work with too many providers to cover breadth of services along with their global support needs (on-shore, near-shore and offshore).

- Lack of transparency.
Here are the six basic tenets our approach to our customers and our work is based on…
LISTEN
We understand you know your business better than us.  We understand technology and how it could make a positive difference to your industry but we will rely on you to help us understand your business situation.  Our Business 360 assessment model allows us to highlight the opportunities and options that exist for your organizatin.
INTERNALIZE
We treat each customer as unique rather than group them by industry.  What has worked for other customers may not work for you.  We understand that.  We take all the inputs from the time we spent on understanding your problem statement and our real-world experiences to make sure we have the same understanding of the problem statement and the success criteria as our customers.
PROPOSE
We treat each engagement as a trusted partnership.  We make sure that the recommendations made are based on objective assessment from our consulting teams.  At the same time our proposed approaches provide our customers incremental benefits along the implementation timeline.
IMPLEMENT
We offer end-to-end consulting services that include not only making recommendations but also to implement those recommendations.  Our intellectual property includes various methodologies and products that drive successful implementations while managing scope, schedule, budget, quality, risk and effective change mangagement.
MONITOR
Change Management is critical to the success of any initiative.  At Plexlane we incorporate change management in all aspects of our work.  At the same time we impress upon our customers the value of change management at all levels of the organization that are impacted.  Together we make sure that as we progress towards the go-live date we are ready in all areas – people, process and technology.
IMPROVE
Lessons learned is a term that everyone talks about.  No one likes to repeat their mistakes.  The truth is, however, that rarely project teams go back and review lessons learned from the past and incorporate  them in future initiatives.  At Plexlane, we make every attempt to capture as many failure modes as possible in our engagements with our customers.  This is not to say that things will not go wrong…they will.  The intent is that we mitigate risk as much as possible and focus most of our energy on providing best in class solutions to our customers that meet their business objectives. One of our key offerings, "Innovation as a Service (IaaS)", drives innovation in all aspects of our work.  This allows our customers to gain valuable insight on an ongoing basis from leading industry experts.